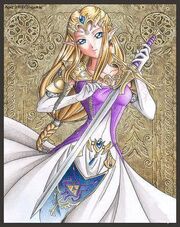 In The Final Haunt Zelda is 18 and is skilled with swords and firing light arrows. [Background info] Hobbies:Getting saved by link
Talents archery,swordplay
favourite food:any kind of fruit
things she can't dosing,dark magic
fears:Link dying
strengths:Light arrows,Duty sword,light magic
weaknesses:arrogant
enemies:Ganondorf,Veran
Friends:Zilon,Link
Relationships
Edit
Link: Zelda has strong feelings for Link,but is afraid Link has feelings for someone else. Zilon:Zelda and Zilon are childhood friends and have had squabbles in the past. None the less they remain friends.
Ad blocker interference detected!
Wikia is a free-to-use site that makes money from advertising. We have a modified experience for viewers using ad blockers

Wikia is not accessible if you've made further modifications. Remove the custom ad blocker rule(s) and the page will load as expected.