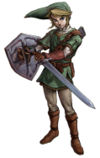 == Link ==
In my fan-fic Link is 18 and talks.
Background info
Edit
Hobbies:sword fighting,archery
Talents:Kicking Ganondorfs Butt
Favourite food:Hyruleian stew
Things he can't do:dance,sing
Fears Ganondorf winning
Strengths: Master sword,Destiny blade,Friends
weaknesses feelings
enemies: Ganondorf,Bellum,Veran,Onox
Friends:Zelda,Zilon,Midna,Reth,Dane,Armek
Relationships
Edit
Zelda Link has strong feelings for Zelda but is scared that Zelda wiil think he is a freak if he tells her. Zilon Link treats Zilon like lifelong friend and is concerned for his safety.
Ad blocker interference detected!
Wikia is a free-to-use site that makes money from advertising. We have a modified experience for viewers using ad blockers

Wikia is not accessible if you've made further modifications. Remove the custom ad blocker rule(s) and the page will load as expected.